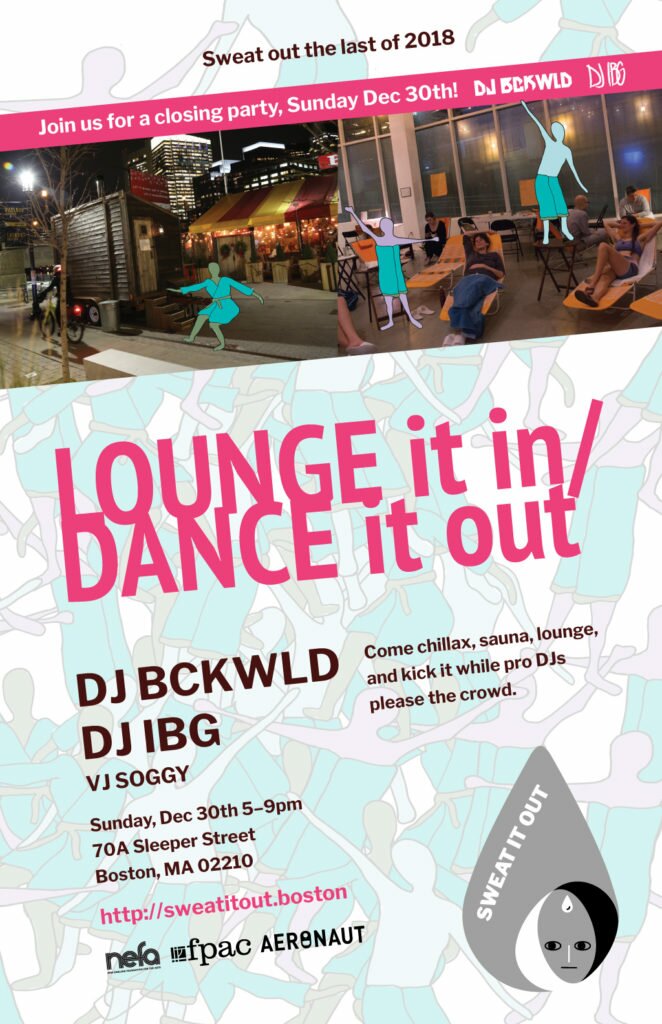 Received a request "write speech for me"? Use any professional speech writing agency. The vast majority of them deliver high-quality speeches. You will be contented and your audience will applaud.

Sweat it Out will take place in and outside of The FPAC Space at the Envoy Hotel at 70A Sleeper Street in Fort Point, Boston during the cold, dark days of November and December with sauna events occurring at the dates and times below.
Sunday November 25th from 1-5pm: Join us for a post-Thanksgiving (or National Day of Mourning, depending on your point of view,) detox/destress session. This is our official "soft launch" and opening. It has no other agenda beyond getting warmed up and chilling out together.
Sunday December 2nd from 1-5pm: Inside and outside of the sauna, Pennie Taylor will be guiding participants in exercises that explore how we define and maintain a sense of belonging. Pennie is a curator, organizer, and game designer based in Somerville, where she is on the founding board of the Union Square Neighborhood Council. She will bring her expertise in creating interactive and participatory museum installations to facilitate a conversation about belonging in public spaces and changing urban landscapes.
This event also includes an ongoing tea ceremony led by artist Christen Shea.
Sunday December 9th from 1-5pm: While the sauna is steaming, Elizabeth Aliu, a mediator and conflict specialist, will facilitate thinking focused on "how a city defines, creates and maintains its identity" using an approach called "dialogic feedback" to create a safe atmosphere of sharing, reflecting and learning. Elizabeth says "I'm looking forward to sharing, learning and relaxing in the mobile sauna with attendees." And suggests that anyone reading this in preparation for visiting reflect on a place, thing or a symbol that creates a sense of belonging.
This event also includes an ongoing tea ceremony led by artist Christen Shea.
Thursday December 13th from 5-9pm: We'll be imagining what a future Boston we'd be all happy to live in would feel like, and seeking new, creative ways forward after community rifts and trauma with Orion Kriegman.
Orion is Executive Director of Boston Food Forest Coalition, and former Co-Director of NET New England, where he co-founded and led Jamaica Plain New Economy Transition (JP NET), a community-driven project in Boston pioneering a "new" economy that is place-based, sustainable, and reduces race and class inequity. Orion was also Project Officer for Reflecting on Peace Practice, a practitioner's learning about peace-building efforts in internal armed conflicts, and worked for two years in Guatemala with the Organization of American States to help government and civil society implement the policies outlined in the peace accords.
While the sauna steams, Orion plans to lead relaxing (but lively) small group visioning exercises "so that we can learn and share with each other about our values and hopes for what is possible for our communities here in Boston." If you want to prepare in advance, Orion suggests that you "reflect on what it means to belong to the community that is Boston, by thinking about all of the communities that you belong to here."
This event also includes an ongoing tea ceremony led by artist Christen Shea.
Sunday December 23rd from 1-5pm: Herbalist Anna Booth Cohen will be guiding visitors through a series of embodied processes to help facilitate connection to the land in its present, past, and future states. Anna works with Western folk herbalism, plant spirit medicine, and principles of family constellations to connect people with plant, ancestral, and consciousness resources.
During our closest-to-the-solstice sauna session, Anna will lead "meditations with plant resources" and do guided work in small groups, "using the heart as an organ of perception to access and work with the consciousness of the land and the factors and archetypes which have influence in its state."
Anna encourages vistors to come with an open mind, with a willingness to step into the unknown, and with a readiness to share from a place of authenticity and non-judgment.
Anna says "I am excited to be able to connect with the community and to bring resources and context to what is active in the field of consciousness that is a part of this place."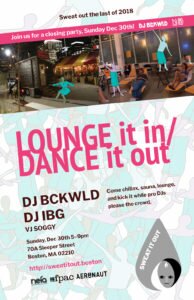 Sunday December 30th from 5-9pm: Ride the post sauna heat elation and sweat out the last of 2018 with a closing dance party with DJ BCKWLD & DJ IBG!
You can also visit our project's immersive art installation during FPAC Space at the Envoy's normal gallery hours: Wednesday 4-8pm, Thursday 12-5pm, Friday 12-5pm, Saturday 12-5pm.